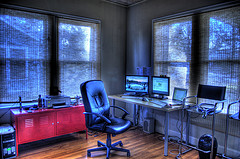 More and more today, people in Florida are choosing to work out of their own homes. If you are one of these people, you will want to set aside a room to conduct your work. However, there are many things you need to consider first before you set up a home office. If you want to be truly successful, the following tips may help.
Furniture
The first thing you will want to think about when designing your home office is furniture. You will need a good-quality desk and comfortable chair that are both attractive and suited for your type of work. You will also want to consider price when choosing office chairs.
At Corporate Office Interiors in Pompano Beach and Miami, you will find quality office desks and chairs at affordable prices. There are many attractive styles and models for you to choose from, and there are sure to be pieces that you will love. They also carry a wide range of cubicles to help you create a successful work space.
Color and Decor
The next things you will want to consider include the color you would like the walls to be and what kind of decor you would like to use. Since you will be spending a lot of time in your office, you want it to be pleasant. In fact, color has been proven to have a strong impact on mental health.
As such, choose a color that you like and that makes you feel comfortable. Adding various paintings, pictures or artificial plants to your home office can help to make your area pleasant as well. No matter how you may choose to decorate your home office though, Corporate Office Interiors in Pompano Beach and Miami can help.